Taihu Lake Contaminated.. Water Shortage in Wuxi
Friday, June 1, 2007 11:22
10 days ago I had lunch with an executive who had just traveled to see the famous Taihu lake, and the report was not exactly what the local tourist board would want tourists
reporting.
It was disgusting… so polluted.. there was a green foam all over
This morning, I was asked by a local CSR manager in Shanghai what was going on. Their people could not drink the water. Could not shower… and water was being sent from Shanghai operations to Wuxi for employees
The problem (according to 127 publications) is that Taihu lake has, like every fishtank I ever owned, been severely contaminated by algae and has contaminated the drinking water of Wuxi's 7 million people.
For those that do not know Wuxi, it is outside of Shanghai (about half way to Nanjing), and many companies have established new manufacturing facilities in recent years.
Now, many of these companies are activating emergency EHS plans, and no doubt this will have consequences for the Jiangsu Provincial government who are now diverting the Yangtze to flush our China's third largest lake.
As you can see in our daily news reports, few days go by without some news of a clean up, a spill, a regulation, or a proclamation.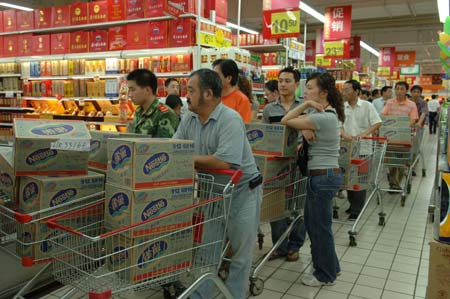 However, China's third largest lake is so contaminated that 100,000 boxes of bottled water are having to be sent to ensure the water needs of 7 million residents can be met.
One can only hope that this incident will spur real action….
You can follow any responses to this entry through the
RSS 2.0
feed.
Both comments and pings are currently closed.
4 Responses to "Taihu Lake Contaminated.. Water Shortage in Wuxi"