Fresh Produce Logistics in China
Thursday, October 25, 2007 9:17
One of my very first projects in China involved a study of 400 farmers in the Jiangsu province bringing agriculture to market. My team at the time went through town after town and interviewed farmers, wet market buyers, truckers, and food processors to understand the process as it stood .. .and we used that to develop our platform.
It was one of the most interesting projects that I worked on, and one that I wish had received the funding (we were 3 years too early).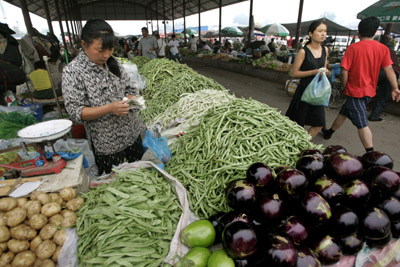 So, while doing some research on trucking in China, I ran into a report online entitled The supply chain and management of fresh produce in China (PDF Report Here) by Huang Zu-hui, Song Yu and Liu Dong-ying of Zhejiang University that examined the process by which produce makes its way from the farm to the market (retail, wholesale, and export).. and it reminded me of many of the things we found in our earlier study.
While obviously a rough draft, and written by students who were ag. majors rather than logistics majors, they have done a pretty good job of mapping out the current situation in China, what it should look like, hurdles in way, and some of the catalysts that will drive change.
For anyone looking to understand the pain that big box retailers (Carrefour, WalMart, Tesco, Lianhua, etc) go through in China, I highly recommend taking the 10 minutes to run through it. It is an interesting read, and as a rough cut produced by students, it is without a sales pitch or spin.
You can follow any responses to this entry through the
RSS 2.0
feed.
Both comments and pings are currently closed.
5 Responses to "Fresh Produce Logistics in China"