China's Economy is Running Out of Gas… Literally
Wednesday, October 31, 2007 23:54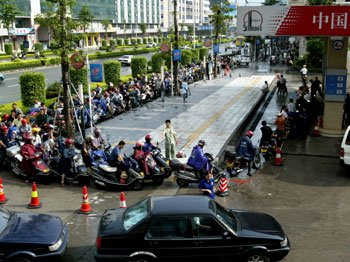 Last week, the China Auto Times printed a story (China Daily Story here) that China was considering a 100% gas tax that would raise the price of petro from 2.50USD a gallon to 5USD a gallon (I am sure you can understand why that story was buried). It was a story I had planned on commenting on, but no one else picked it up. According to the reports:
The government is worried about soaring fuel consumption and worsening air pollution in already smoggy cities with an increasing number of vehicles on the road, said Shi Yaobin, director of the Ministry of Finance's tax policy department, at a forum on China's auto industry development held in Tianjin over the weekend.
In hindsight, I should have paid more attention to it (and asked a few questions) as it appears that China is having a gas shortage (see: Business Week, IHT, and the Shanghai Daily)…
What makes this most interesting is that it appears to be (1) widespread across China and (2) it is affecting big customers
Why these two things are important are that one of the big incentives the oil firms offered for logistics firms (trucking, shipping, etc) and retail pump owners to sign on for big contracts was a guaranteed supply.. or at the minimum a spot at the front of the line. This is not the first gas-out China has experienced, but it is one of the most wide spread since they made the leap from exporter to 2nd largest importer a few years back.
These stories should serve as warning shot, and that everyone needs to plan for increased transportation costs and also understand that China's reliance on gas is going to be a natural constraint to the growth of the economy.
China has already raised prices 10% across the board according to the WSJ, and it is only a matter of time before that goes higher (consider the fact that we are not in peak season for ANYTHING right now).
You can follow any responses to this entry through the
RSS 2.0
feed.
Both comments and pings are currently closed.
4 Responses to "China's Economy is Running Out of Gas… Literally"