Yantze River Reaches 5 Year Lows. Bottom Exposed
Sunday, January 13, 2008 2:06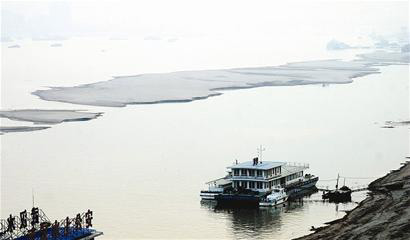 In the midst of my Yantgze report, I came across several articles that show just how exposed to the elements trade along the Yangtze is. Historically cycling between the two extremes of flood and drought, the Yangtze river level can fluctuate quite a bit. However, after a drought in the middle of the country, ships have begun to get stuck.
Yangtze River most thirsty in 50 years from CCTV and Riverbed Surfaces in Yangtze Wuhan Section from China Digital Times provide the details
The level of the Yangtze section in East China's Anhui Province, has dropped from 9 meters to 1.3 meters and continues to fall by 3 centimeters a day.

This is the year that Wuhan's Yangtze water level hit its historical low, 14.05 meters.

Nearly 20% of the river islands (sand bars) are new in the past five years.
On a good day, the Yangtze only utilizes 20% or so of its capacity for river traffic. The lower reaches (Shanghai to Jiujiang) are naturally the deepest waters, while the middle reaches (Jiujiang to Yichang) see 30-50% reduction in draft, and the final leg from Chongqing(3 gorges dam) are the most shallow.
In terms of economic impact, the majority of the impact will be domestic as the majority of materials on the river are raw materials (coal, iron ore, steel bars, etc) headed to factories & power plants. As we saw with the heavy fog in Shanghai this week, these disruptions can lead to signifcant backups along the river, and as such a constriction of industry for a short period.
On a global trade scale, the impact is more subtle as the Yangtze's container volumes are still to low to really have a wide impact, but the domestic flow could. This is bound to change though as nearly all of the yantgze's 24 ports are investing in expansion, local governments are building infrastructure , logsitics firms are buying boats, and so on. As I put forth in my post Implications of a Containerized Yangtze River last year, the Yangtze is critical to the ongoing balance of China's economy, and given all the dredging going on it is clear that I am not the only one who believes that.
You can follow any responses to this entry through the
RSS 2.0
feed.
Both comments and pings are currently closed.
9 Responses to "Yantze River Reaches 5 Year Lows. Bottom Exposed"