Shanghai's Real Estate Market is IMPLODING FAST
Wednesday, January 7, 2009 16:34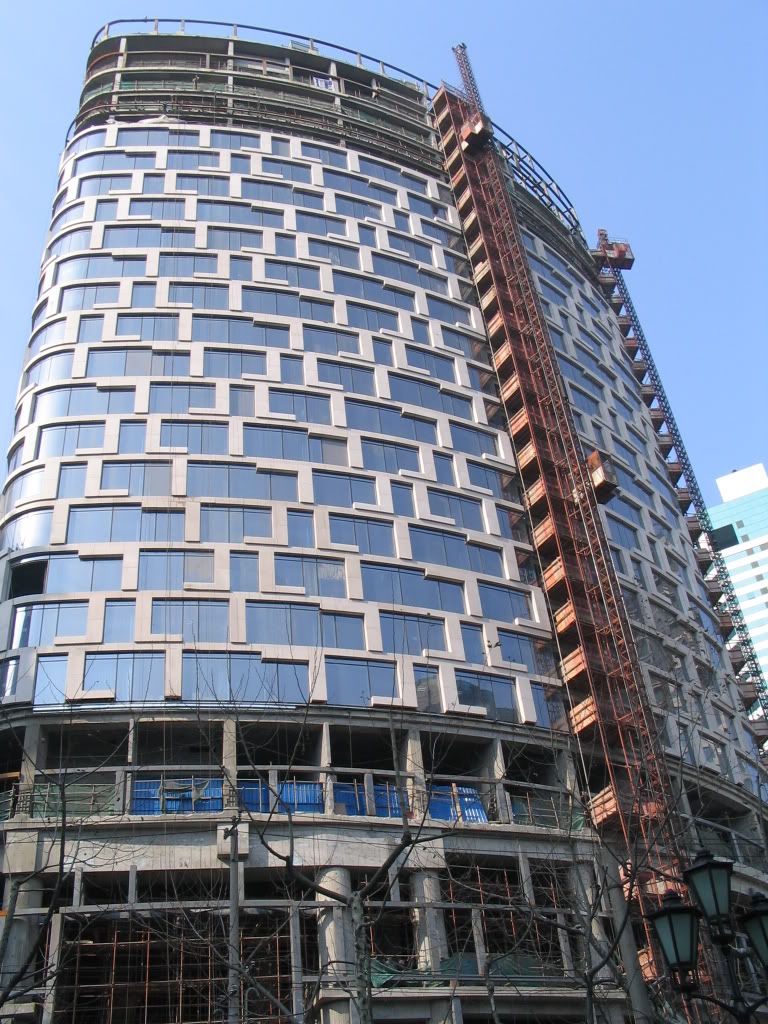 3 years ago, you could not enjoy a meal without the topic of real estate coming up.  Prices were soaring, flats were flipping, agencies were popping up everywhere, and everyone had a "tip".
Now though, there seems no end to the news related to the real estate market, and even as I have done my best to keep up, the news and rumors are coming too fast!
so, with that, here are the rumors of the day:
1) Shanghai Puli Hotel and Spa, which has had its glass curtain on for over a year now, is now reportedly classified as a "lanwei lou" – or a building in default – after the investor ran out of money.  This is PRIME REAL ESTATE along the Nanjing West Road corridor
2) The two hotels that Shui On has built to house the Shanghai Conrad  were put on hold about 3 months ago due to the recent fallout that the hotel industry has experienced (average hotel occupancy is now in the 40% range, more than 60% off).
Stunning new story of the day once again goes to China Stakes and their article Shanghai's Office Space Rental on the Edge of a Cliff. According to the article:
Savills, a global real estate services provider, reports that the vacancy ratio of A-level commercial buildings in Shanghai, which was only 5% at the beginning of 2008, soared to 15.4% by the end of the year. In Pudong, the percentage is as high as 25.6%, up to even 50% in some high-end commercial buildings.
The average daily rent at the beginning of 2008 was 8.25 yuan per square meter, rising to 8.41 yuan in the third quarter, but it dropped to 7.68 yuan by the end of the year. Average daily rent in the Lujiazui Financial Zone dropped by 10.7% from 8.97 yuan per square meter in the third quarter to 8.12 yuan in the fourth.
DTZ estimates that average room rent in 2009 will be about 8 yuan/square meter/day for high-end A-level commercial space, 5 yuan/square meter/day for medium A-level space, and 3 yuan/square meter/day for B-level space.
8 RMB?? THAT IS INSANE. to put that number in perspective, 5 years ago when putting a client into the Portman, the rate was somewhere in teh 1.15-1.30USD range, Plaza 66 was a dollar, Westgate was .60~.75/USD per meter per day.
At this point, were I to have 25 million USD (I am just short 24.99999), I would be getting ready to enter the market.
It is clear to me that while the rental market is falling, a long term investor who UNDERSTANDS and believes in the LONG-TERM will find some of Shanghai's jewels  available for a song.
You can follow any responses to this entry through the
RSS 2.0
feed.
Both comments and pings are currently closed.
10 Responses to "Shanghai's Real Estate Market is IMPLODING FAST"